If you need to find your Tag Manager ID please follow the instructions below.


1. Enter in your Google Tag Manager account.
2. Select your container and enter in the Workspace.
3. You can find your Google Tag Manager ID near the top of the window, formatted as "GTM-XXXXXX".


Once you have your ID, copy it and go back to JotUrl.

4. At this point, if you don't already have a Tracking Link ready for your Remarketing campaigns, create a new Tracking Link.
Remember to use your custom branded domain and take full advantage of the alias to customize the look of your URL.


5. Click on "Save and go to Link options"
6. Select the "Remarketing" box.


7. You can insert up to 5 different Retargeting Pixels on the same Tracking Link. You can insert also the Google Tag Manager ID, even if it's not a Remarketing Pixel.
Click on (+) REMARKETING CODE.


8. Name your Pixel.
9. Select the type of Retargeting Pixel from the drop-down menu.
In this case select: "Google Tag Manager".


10. Then paste the ID of your GTM in the space below.
11. If you wish, you can create a new Template for your GDPR Policy.

12. Once all the procedures have been completed, click the "Save" button.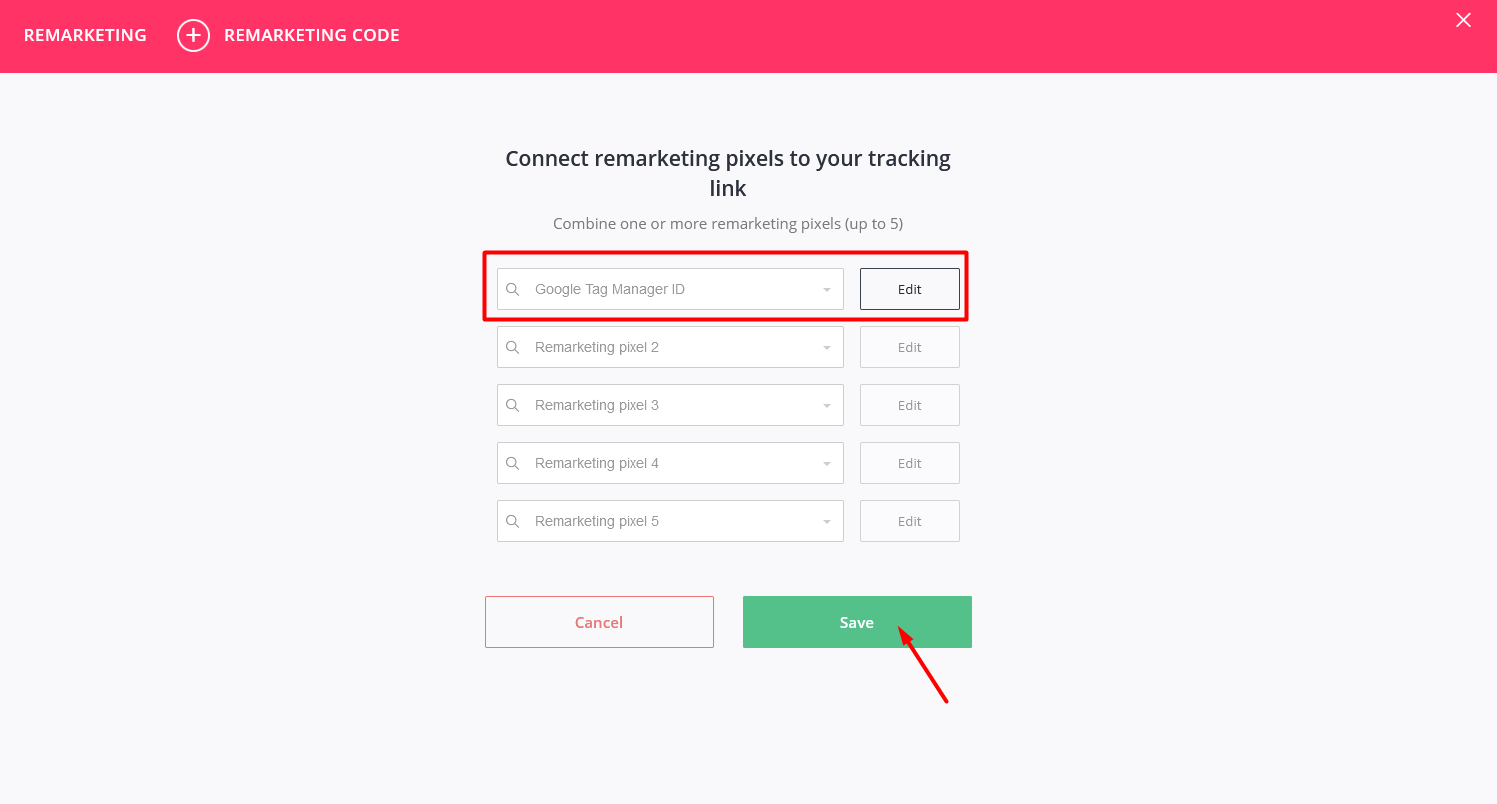 13. Once you've saved your template you will return to the Remarketing page, from here you can edit your template or add others. Confirm the addition of the Google Tag Manager ID to your Tracking Link by clicking the "Save" button.

NB: GTM is not a remarketing pixel, but a tool that allows you to insert third-party scripts on the page even according to specific conditions. We've integrated the GTM ID within our Remarketing Pixels to provide additional benefits in using our features. The GTM ID can work perfectly with our Remarketing feature even if it's not a Remarketing Pixel.