MyLead is an innovative affiliate network that allows you to effectively earn and monetize your content and website.
Follow this guide to discover properly how to configure the postback URL and prepare to track your new marketing campaign.
SUMMARY:
1st Step: Create a Tracking Link with a Conversion template in JotURL
2nd Step: Add a Traffic Source to MyLead
3rd Step: Create a New Campaign in MyLead
4th Step: Insert the Postback URL into MyLead campaign

Generate a Postback URL for MyLead using JotURL
A Postback URL allows cookieless and Server to Server tracking. Once you select the network, JotURL will return the correct postback URL and provide you with the next set of instructions. In a few steps, you can get the PostBack URL for your MyLead account and effectively track your traffic.

1 - Log in to JotURL Dashboard and create a New Tracking Link.
2 - Choose your branded domain, your alias, and then click on the "Save and go to Options" green button.
3 - Enter the "Conversion" Box.
4 - Click on (+)Conversion to generate your new template.
5 - Add a new conversion, fill in all the field and mark "Enable postback URL for this conversion"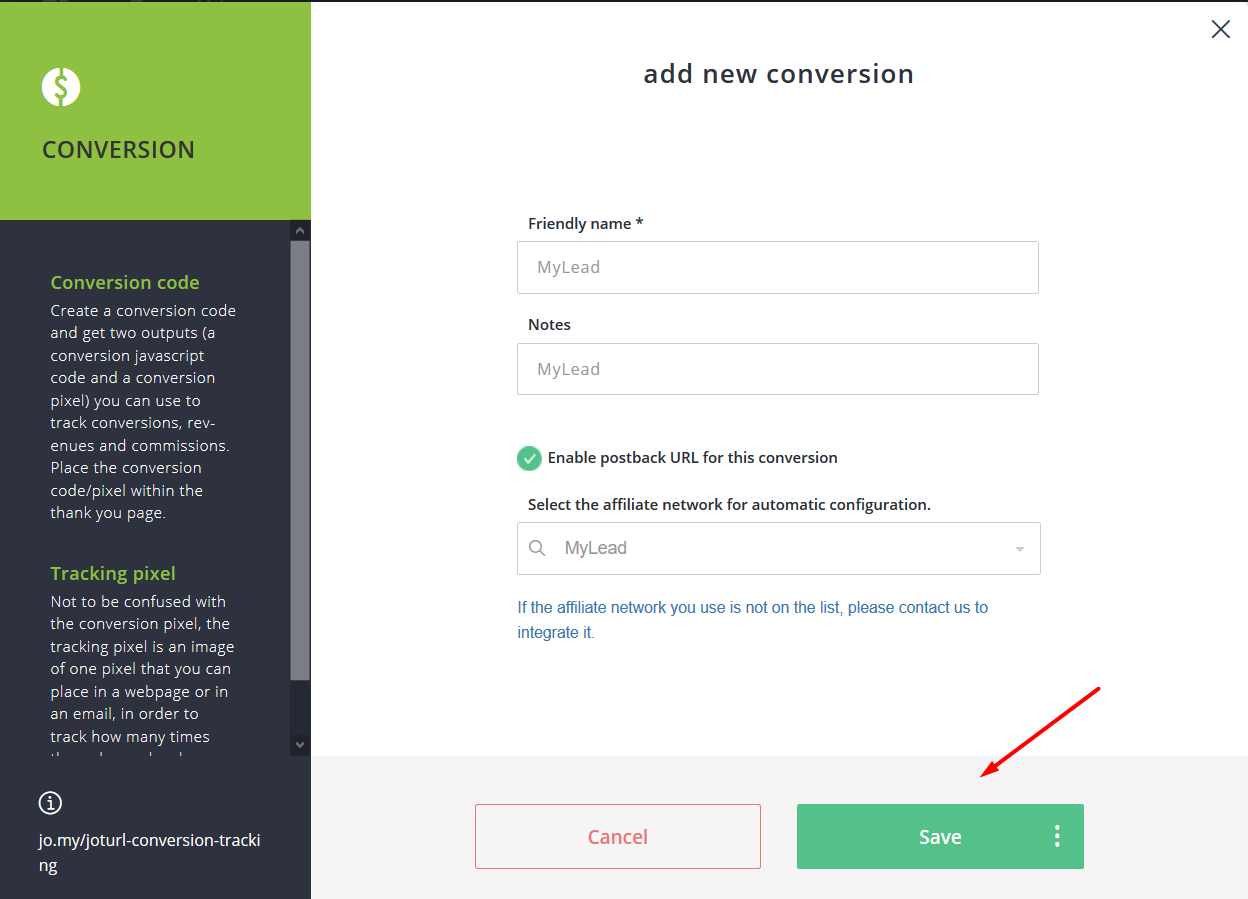 6 - Search manually your affiliate network, in this case, search for "MyLead".

7 - Save and go-to option.
8 - Scroll down to the conversion code and click "Postback URL"

9 - Copy the postback URL and prepare to paste it in your MyLead account.

Add a Traffic Source to MyLead

1 - In MyLead Dashboard, click the voice "Traffic Source".

2 - In the page click the "Add a traffic source" button to create a new Traffic Source.

3 - Finally select the type of Traffic Source you want.

For example, you can choose the Social Media item, select the social media you want (FB, Instagram, YouTube, etc.) and then fill in the required fields such as the URL of the page.

Once you have filled out the form, or entered the additional information, click on the "Add" button.

With these simple steps you can create your Traffic Source in just a few clicks and get ready to host your campaigns on MyLead.

Create a New Campaign in MyLead
1 - In MyLead Dashboard, click the voice "Campaign" and select "List of Campaigns" in the menu.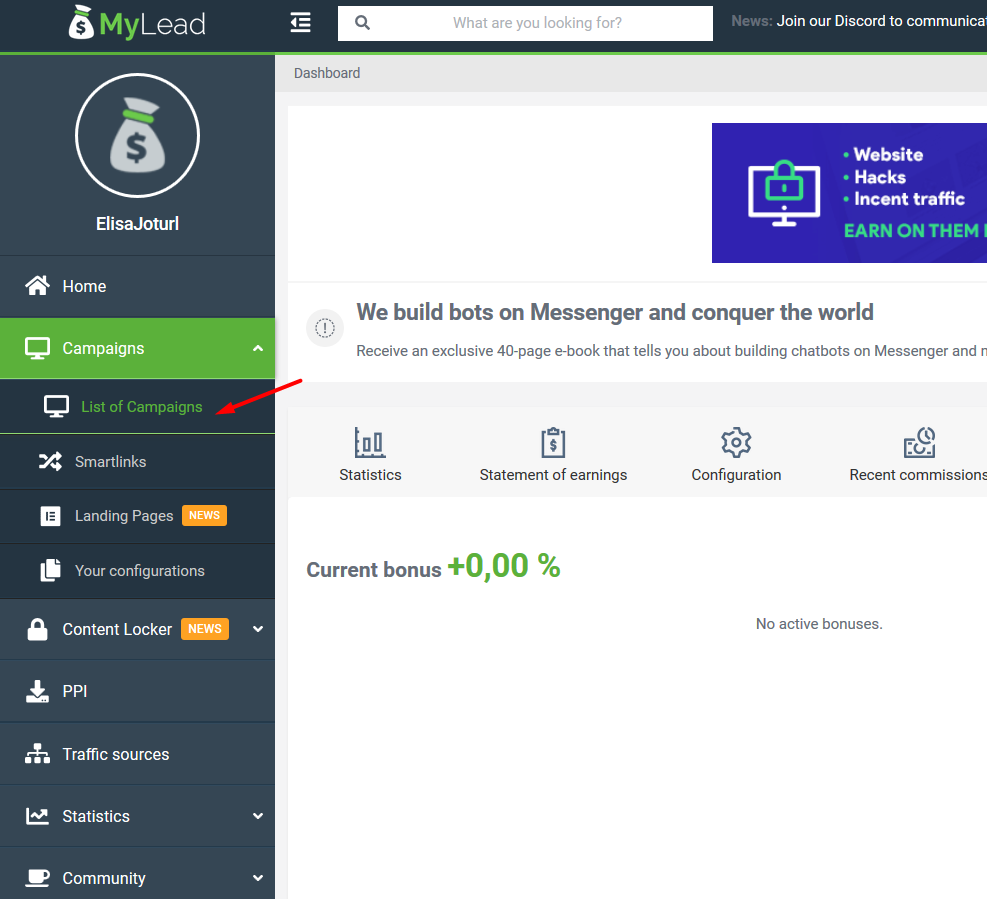 2 - Select an offer that you wish to promote in the campaign list.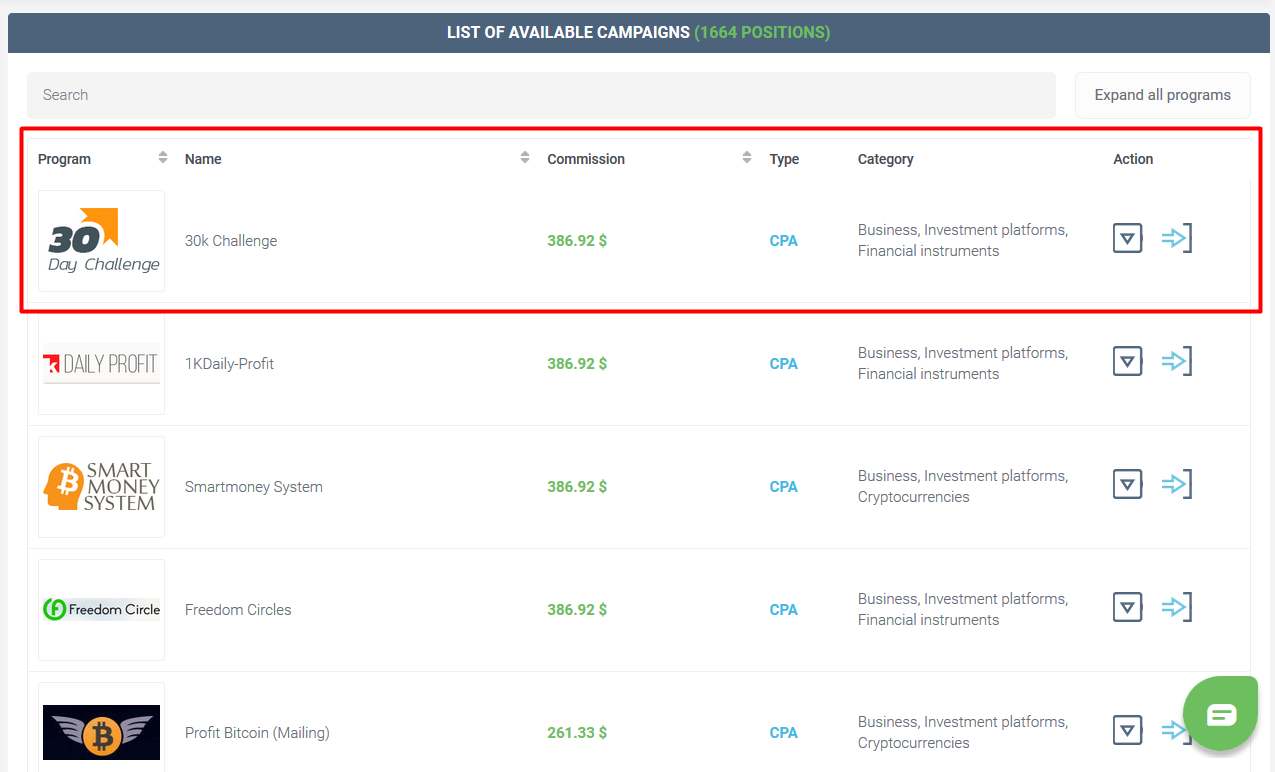 3 - Click the "URL address" option.
4 - Select the traffic source in the drop down menu.
5 - At this point you will only have to wait for the acceptance of your campaign. You will be able to view your campaigns in the "Campaigns" section, in the "Your Configuration" item.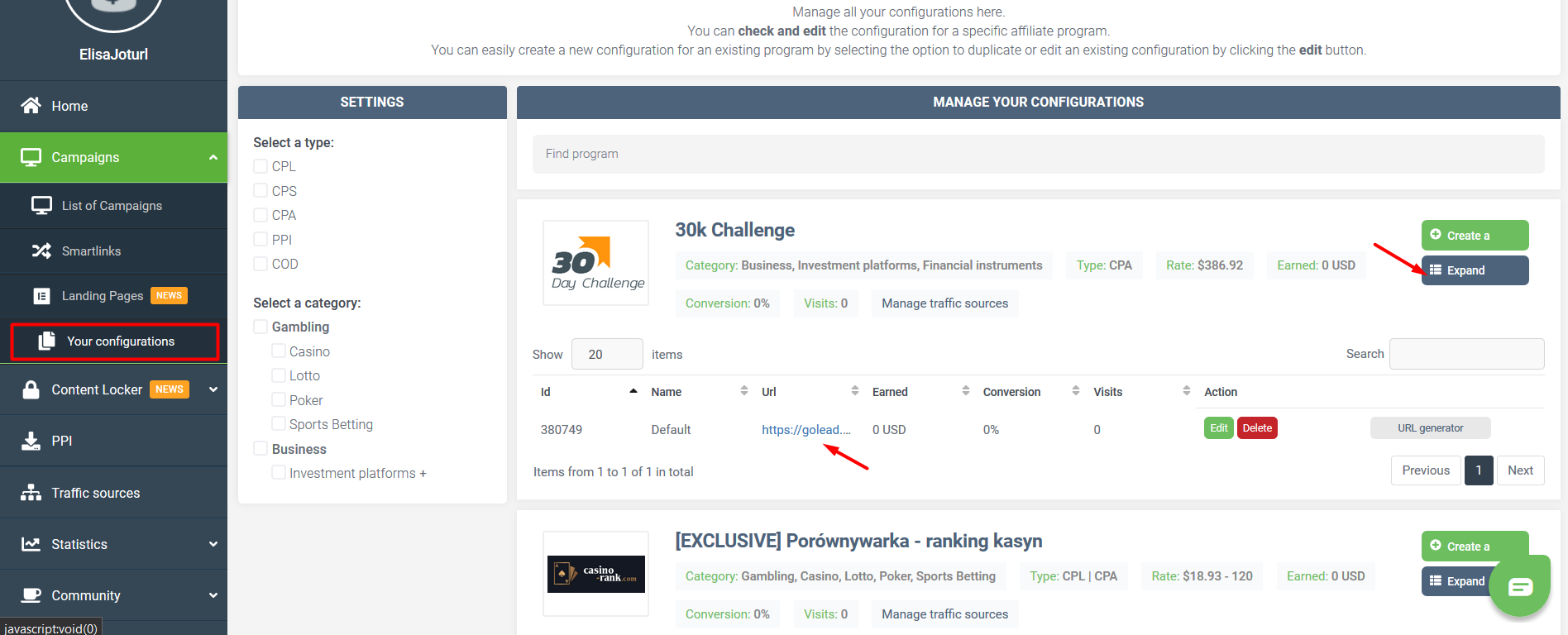 6 - Click on "Your Configurations".
7 - In your campaigns you will find a recap of your business. Click on the Expand button to view the URL of your offer.
Insert the Postback URL into MyLead account

You're almost there!
Once you have completed the operations on Joturl, you will need to enter the MyLead dashboard to configure the Postback URL within a couple of clicks.

1 - Log into your MyLead campaign after the creation of your URL.

2 - Click on the " Postback API " box in order to insert your Postback URL inside your new campaign.


3 - Select the status that activates your PostBack URL, "Any" is the recommended option.
4 - Paste your Postback URL in the "Postback URL" field.
5 - Save it.
At this point, you will have successfully configured your postback URL within a MyLead campaign.