Within JotUrl you can also use the Remarketing Pixel Codes that are not currently configured among those in the list.
Through the Custom Pixel ID option, you can take advantage of the complete pixel code and paste it into our platform so that you can freely take advantage of any Remarketing Pixel you want, even if not yet on the list.
Unlike the other Pixels, in this case, you will not be able to simply enter your Retargeting Pixel ID, but you will have to take care to totally copy and paste the code from start to finish. Depending on the provider used to obtain your Pixel, you may need different steps to obtain the code, we advise you to carefully read the documentation present within the platform on which you are advertising.
Once you have your code, copy it and go back to JotUrl.
1. If you don't already have a Tracking Link ready for your Remarketing campaigns, create a new Tracking Link. Remember to use your custom branded domain and take full advantage of the alias to customize the look of your URL.
2. Click on "Save and go to Link options".

3. Select the "Remarketing" box.
You can insert up to 5 different Retargeting Pixels on the same Tracking Link.

4. Click on (+) REMARKETING CODE.
5. Name your Pixel.
6. Select the type of Retargeting Pixel from the drop-down menu.
In this case select: "Custom Remarketing Code".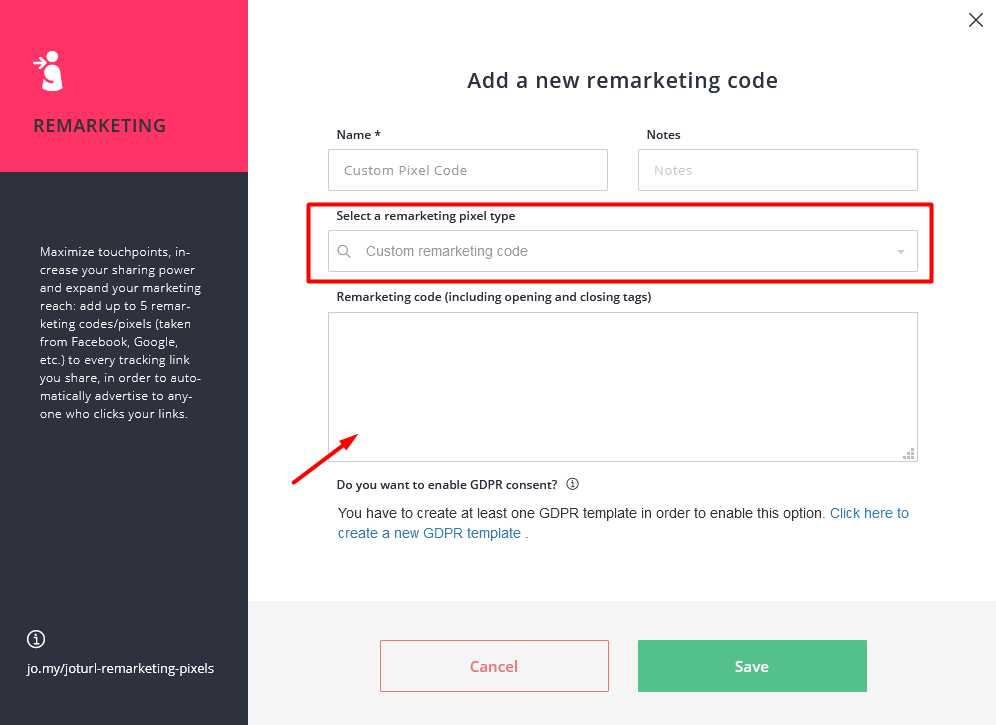 7. Then paste the code of your pixel in the space below.
8. If you wish, you can create a new Template for your GDPR Policy
9. Once all the procedures have been completed, click the "Save" button.


10. Once you've saved your template you will return to the Remarketing page, from here you can edit your template or add others. Confirm the addition of your Custom Remarketing Pixel Code to your Tracking Link by clicking the "Save" button.